Home > What's new at YES01
Diesel In Line Plunger Injection Pump Model(YESA-2611)
Educational model for understanding internal structure of in-line plunger injection pump of 4 cylinder direct nozzle by cross-sectioning components.
The operating principle of injection pump can be educated systematically and explained efficiently by manual operation.
The model is painted by detailed specifications to enhance educational quality.
This product is fabricated with plating treatment for superior durability.
Fuel supply pump, governor, timing device, cam shaft, roller tappet, plunger, in let port, and needle valve of nozzle are precisely cross-sectioned and manufactured for easy education.
Mirror stainless steel with adjustable base frame
Supplied manual with theory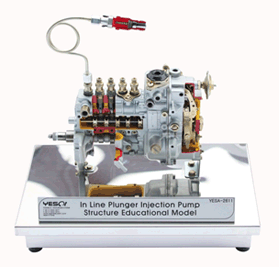 Injection Nozzle Assortment Model(YESA-2613-7)
Educational model for understanding internal structure and operating principle of 5-7 types of injection nozzle of Diesel engine by cross-sectioning components.
This product is fabricated with plating treatment for superior durability.
The model is painted by detailed specifications to enhance educational quality.
Mirror stainless stand with adjustable base frame.
Supplied Manual with theory.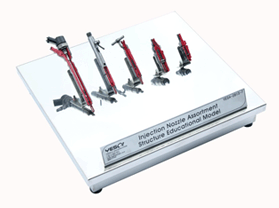 Total Mechanical Elements with Actuate Equipment(YESA-2901)
Educational equipment manufactured as a simultaneous operating type and composed of operational mechanical elements by integrately connecting them for effective education.
Operating principle can be easily taught educated with composition of straight shaft, crank shaft, flexible shaft, coupling, universal joint, clutch, spur, helical, rack, bevel, worm gears, V-belt, pulley, chain, link, plate, etc.
By operating the operational switch for each element on control panel, relevant element's blinker is operated.
Control panel has excellent durability by installing switches, control circuit, key switch, safety switch, etc. on an aluminum coated plate engraved with CNC.
A precisely fabricated MC Pipe by manufacturing Bearing and Bushing with minimum tolerance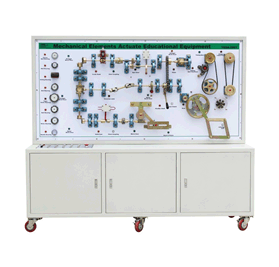 This equipment is designed for easy understanding of structure and operating principle through separate operation of each part.
Plating treatment of entire components facilitates storage and training.
Function of operating components may be checked with lamp and buzzer
Effective for operating principle and function instruction of minimum 8 types of bearing by cross-sectioning components.
Built-in' operating device of AC 220V motor and operational system of R,F safety warning lamp.
Panel is effective for exhibition with color printed name indication.
Parts are coated for durability.
Powder-coated, 4-wheel panel stand with 3 door cabinet.